Justin Trudeau Takes a First Step Toward
Marijuana Legalization in Canada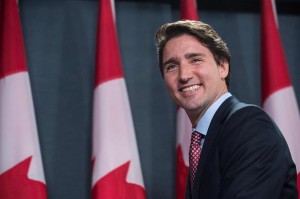 Canadian Prime Minister Justin Trudeau has called on Canada's newly appointed Minister of Justice and Attorney-General Jody Wilson-Raybould to look into implementing marijuana legalization in the country. In a mandate letter written to Wilson-Raybould, published on Friday, Trudeau asked her to collaborate with other ministers to "create a federal-provincial-territorial process that will lead to the legalization…. Read More
---
Justin Trudeau wants to legalize marijuana
TORONTO – Liberal Leader Justin Trudeau took his stance on marijuana a step further in a public appearance in Kelowna, B.C. this week. "I'm actually not in favour of decriminalizing cannabis. I'm in favour of legalizing it– tax and regulate," he said, over a burst of applause from the crowd. Trudeau gave his opinion without being asked a direct question, in response to a sign advocating the decriminalization of cannabis. "It's one of the only ways to keep it out of the hands of our kids," he added.
---
Margaret Trudeau says quitting marijuana helped mental health
Quitting cannabis has been an important part of her recovery from mental illness, Margaret Trudeau said Monday at a press conference in Vancouver for the Canadian Mental Health Association's upcoming Bottom Line Conference. Trudeau, who suffers from bipolar disorder, spoke openly with reporters about her experience with depression and the effect of her long-term marijuana use
---
Psychiatric Drugs & Violence—The Facts
Psychiatric Drugs—Regulatory Warnings on Violence, Mania, Psychosis, Homicide; Fact: There have been 22 international drug regulatory warnings issued on psychiatric drugs causing violence, mania, hostility, aggression, psychosis, and other violent type reactions (See full list at the bottom of this page). These warnings have been issued in the United States, European Union, Japan, United Kingdom, Australia and Canada.