Trinity Western's loss a clear case
of anti-Christian bigotry

The Ontario Superior Court has upheld an anti-Christian ruling against Trinity Western Law School. The Law Society says TWU discriminates against gays and lesbians because they're a Christian college. Read More
Christian leaders say faith under attack in Canada by governments, regulators
Charles McVety and other leaders say religious rights for Christians being eroded

A group of Canadian Christian leaders is raising the alarm about what they say are attacks on their faith, citing barriers to a Christian university setting up a law school and doctors opposed to ending pregnancies being forced to refer patients elsewhere. Read More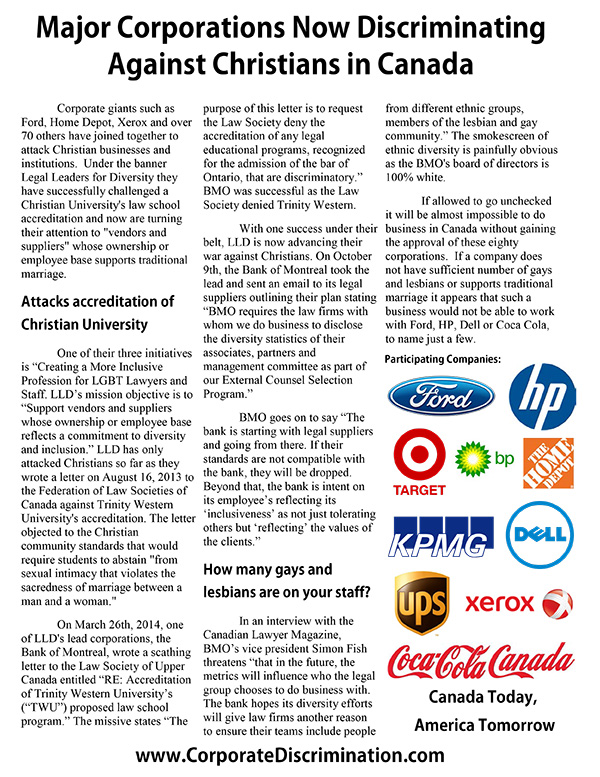 Christian Lawyers and Doctors Need Not Apply
It has become a scary time to be a Christian professional in Canada. In 2014, lawyers and doctors were targeted by their own professional associations for direct attack because of their religious beliefs. For Christian lawyers, the first salvo was fired at Trinity Western University's law school. TWU, which exists to "develop godly Christian leaders" in a variety of marketplaces, requires its students and staff to sign a Community Covenant. This pledge, based on religious beliefs, to abstain from certain activities and behaviours during their time at TWU, includes the use of alcohol on campus, viewing pornography, and "sexual intimacy that violates the sacredness of marriage between a man and a woman." Read More
---
Why is the Bank of Montreal Attacking Christians?
Canada's Charter of Rights and Freedoms begins by stating "Whereas Canada is founded upon principles that recognize the supremacy of God and the rule of law:" The Bank of Montreal has decided to turn its back on these principles with a campaign against Christians. BMO's opening salvo was to attack the Christian standards of Trinity Western University. BMO has now expanded their war by attacking Christian legal suppliers doing business with the bank.
BMO Attacks a Christian University
On March 26th, 2014 the Bank of Montreal wrote a scathing letter to the Law Society of Upper Canada entitled "RE: Accreditation of Trinity Western University's ("TWU") proposed law school program." The missive states "The purpose of this letter is to request the Law Society deny the accreditation of any legal educational programs, recognized for the admission of the bar of Ontario, that are discriminatory." BMO was successful as the Law Society denied Trinity Western. Read More
---
1. Sign the petition HERE
2. Call the Bank of Montreal near you and file a complaint. https://locator.bmo.com/
3. Donate to the Institute for Canadian Values campaign to stop discrimination.
If not you, then who? If not now, when?
May God Bless You as You Act.

---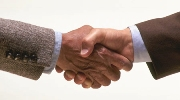 We need you!
Please help us by clicking on the below button and becoming a member of the
Institute for Canadian Values today!